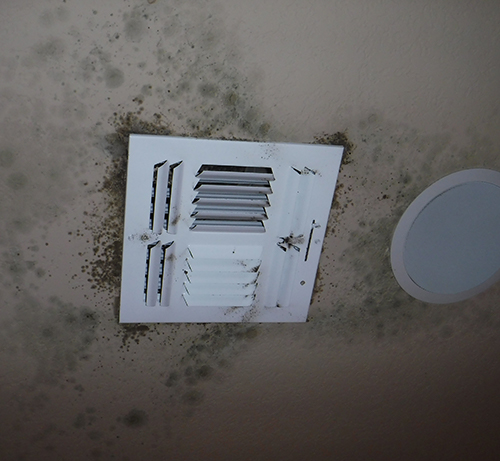 Mold is a big problem that can spread fast and root deep, tainting everything from your building materials to your air quality. Without proper remediation and abatement of the source of the moisture causing it, mold can keep on coming back. That's why it pays to trust the mold inspection professionals at Flint Inspection Consulting Services, Inc. for mold testing in Wichita Falls, TX.
As a Mold Assessment Consultant, recognized by the Texas Department of State Health Services, we're equipped to properly identify all types of mold and connect you with the right people to remediate it thoroughly. Whether in your home or business, we're the ones to call when mold becomes an issue.
Mold Inspections
Mold likes to lurk out of sight, in cool damp places that you may not think to check. During our thorough inspections, we don't miss a thing. We'll check all of the nooks and crannies where mold is prone to springing up and will make certain we understand the full scope of the problem before we get to work fixing it.
Mold Testing
Once mold is found, it's important to undertake proper mold testing in Wichita Falls, Burkburnett, Wichita County, Iowa Park, and Pleasant Valley, TX. We use a fully accredited, fully insured lab to test all mold samples, so we know exactly what we're dealing with. With the right information under our belts, we can provide the remediation and prevention services you need to live and work mold-free in the future.
Mold Remediation
Our approach to mold inspections and remediations is thorough and comprehensive. We'll assess the scope of the colony and any distribution systems and help you get the right people to work on removing it entirely from your building. After our inspection is complete, we can get you in touch with contractors who specialize in the cleaning, sterilization, dehumidification, repairs and future prevention to keep your home or business safe from mold growth and spread.
If left unchecked, mold will quickly spread throughout your facilities, causing health hazards and damage to your building. Count on Flint Inspection Consulting Services, Inc. to provide inspection, testing, and consultation services, to address your mold problem before it has a chance to get worse. Contact us today for mold inspections, lead testing, asbestos consulting, and more at 940-569-4876.